About Us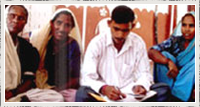 Quilt for a Cause!
Our Quilts are made for a reason! They provide income generation opportunities to village women. This helps them live a better life, send their children to school and live a respectable life. Their other option to cut trees in the forest also becomes a thing of the past, as they no longer need it and also do understand the value of preserving nature!
Being Natural!
The fabric used is 100% cotton and even the wadding is surgical cotton. Cotton not only provides warmth & insulation, but also a breathable layer which is very healthy.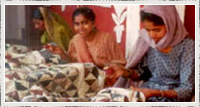 Piece of Art!
Each quilt we make is a piece of ART! Inspired by Amish Art, Age Old Traditions, Grand Mothers' and Mothers' love for passing on eternal love to their children, they are made with very intricate patchwork and applique. They are beautifully hand-quilted with intricate patterns and finished water-washed and tea-washed!